Gwendolyn's Fairy Lair

Welcome!
Fairies are everywhere. We used to be much easier to see,
but since the humans have destroyed most of our favorite stomping grounds,
we have retreated into our own misty world.
And who can blame us? It's a much lovelier place
than your world, anyway. It looks something like this...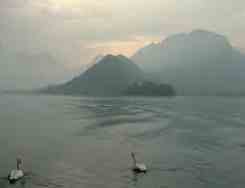 We do still inhabit your world, but it's kind of like living in a parallel universe.
There are still some of you out there that are "sensitive" to us,
who can feel our presence. I'm assuming you are one of those people,
or you probably wouldn't be here. You can still find us,
if you look hard enough, but only if you TRULY believe...
We fairies most enjoy a natural setting. You will find us
near water, lakes, streams, ponds, rivers, and the ocean
(a mermaid is just a different sort of fairy, did you know that?)
We also enjoy a good forest
(a deep dark mysterious forest is best)
although we are partial to any size. In fact, even a single tree will do quite nicely.
Some of us, those that are more friendly to humans than the others, love
a beautiful human-made garden. I've known many fairies who live quite comfortably in gardens.
I'm one of them, thanks to Lily, Ursula and Ida!
All you really need to make a fairy garden is a strong belief in our existence,
and a love for all things wild and magical.
If you have those two things, the garden will be beautiful,
whether or not your thumb is green. We fairies love ALL flowers,
and every fairy has a different favorite. These are some of mine:
Foxglove (the individual cups make lovely hats!),
Sweet Woodruff (my favorite napping place, the scent puts me right to sleep)
Lilies of all kinds, and all spring flowers,
especially Hyacinths, just because they smell so beautiful,
and Primroses. I also like Pinks and Roses,
particularly the wild Beach Roses that grow near my garden,
the one that my three friends made for me. I'm also partial to willow trees,
because my parents lived in one for a long time.
Not actually IN the tree, you understand, but right beneath it...
But like I said, any flower you choose is bound to attract some sort of fairy,
and even if they do not choose to live in your garden, they will stop by to visit!
And all the plants in your garden don't have to flower!
Many people make this mistake. I have some friends who simply adore ferns...
Below you'll find some paths to other fairy gardens.
The three sisters found these sites quite helpful when designing their own garden...
Read Lady Wilde's "Popular Notions Concerning the Sidhe Race"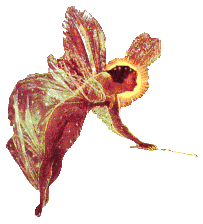 The Secret Garden
Before I direct you to take any other "Fairy" Paths,
let me talk for a minute about the horrible practice of Fairy Pressing.
You will read that it is something Fairies enjoy. THIS IS A LIE!!!
It is an inhumane practice, which was begun by some cruel, twisted human.
Don't let anyone convince you otherwise. Trust me, I know!
You will be told that the pressed Fairies don't die. This is not always the case!
I have lost many friends to this sick human hobby. Please help to support this cause...
Royal Society for the Prevention of Cruelty to Fairies
There are MANY great Fairy-related sites out there!
Below are three web rings that I belong to,
and you'll find more on Queen Moon's other pages

If you have any questions or comments,
please feel free to email Gwendolyn
Fairies courtesy of
Page last updated 3 July 1999