Ida's Little Prince Page
READ THIS BOOK!!!
I mean it!
This is really the most excellent of all books.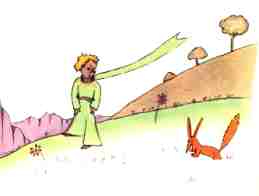 Queen Moon asked me to pick my favorite
Dr. Seuss book, but Lily had already taken it...
So instead I chose my favorite book of all time,
The Little Prince by Antoine de St. Exupery.
At my sister Lily's wedding, I did a reading
from The Little Prince.
If you follow the fox below,
he will take you to what I read.
It's my favorite selection from the book.
I have found two EXCELLENT sites about
The Little Prince
that I would like to share with you...
and
The Little Prince in 23 Different Languages
Both of these sites have a wealth of information
on my favorite book and its author.