<![if !vml]>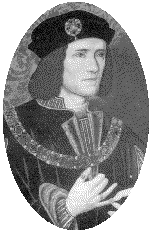 <![endif]>

Richard III
I recently picked up a biography of him and have been researching him on the Net. I'm trying to decide for myself whether or not he murdered his nephews. No success as of yet. I have included below a bibliography and some interesting Richard links. It doesn't really matter at this point if he did kill the Princes in the Tower or not, since they are all long dead. Though I'd like to know...But Richard led an intriguing life, and if you're interested in Medieval England at all, I think you'll find these sites enjoyable.
<![if !supportEmptyParas]> <![endif]>
The Richard III and Yorkist History Server
The Richard III Foundation, Inc.
<![if !supportEmptyParas]> <![endif]>
Richard III Bibliography
I have only read the first three on this list. The others came from a search at Amazon.com I also recommend you check your local library.
Richard III by Charles L. Ross
The Princes in the Tower by Alison Weir
Richard III by William Shakespeare
Richard The Third by Paul Murray Kendall
Royal Blood:Richard III and the Mystery of the Princes by Bertram Fields
The History of King Richard III by St. Thomas More
(I have only been able to find More's work in a collection of Complete Works)
<![if !supportEmptyParas]> <![endif]>